Alright, friends, I've read a handful of books in the past two weeks and it's time for another rapid book review. There's actually a pretty nice variety in the books–a historic YA fantasy, a YA thriller, an adult epic fantasy, a play, and a YA epic fantasy. So there's probably something for just about everyone on this list. Theoretically.
As usual, this will be spoiler-free, so if you're curious about any of the titles below, this post will be safe for you to read.
The Once and Future Witches by Alix E. Harrow
A synopsis: Three sisters reunite in the middle of New Salem during the suffrage movement, bound together by old magic despite a conflicted past. With youngest sister, Juniper, at their head, they fight for the right for women to vote. For all women, not just the hoity-toity middle class ones. But men will not suffer a witch to vote, and as even the shadows turn against them, the combined power of the sisters might not be enough to turn the tide.
The review: A cute but fierce story, the novel reconsiders what might have happened in New Salem if magic and spells were real. There are quite a few things to love about it. The magic system is relatively soft, requiring words (spells in the form of nursery rhymes), ways (the ingredients to make the spell work), and the will. Most women can work magic if they are knowledgeable enough, but most spells are unobtrusive so as to hide in plain sight. It might help to know beforehand that this is an alternate history retelling of the suffrage movement, as one can tell in little details like "Sisters Grimm" instead of "Brothers."
This is not some fast-paced novel. Like the suffrage movement itself, the wins were not easy and required a lot of planning. On occasion, it did drag, especially because it was difficult to know exactly what direction the story would take. I also wasn't terribly crazy about the narrative style. To give it a whimsical feel, I think, it was told in third person, present-tense, which is a bit of an odd combination. But it did have a relatively satisfying ending, with character arcs that felt appropriate.
The author also deserves some kudos for considering the suffrage movement from various perspectives, acknowledging how the black women had to form their own movement, and how the poor women were given little say, either. That was part of the allure for joining the witches' movement; getting power that others would refuse them.
Recommended for: Readers interested in a book that prioritizes familial relationship storylines over romantic ones (although there are plenty of both), as well as those looking for diversity in their fantasy novels, both with race and sexual orientation. If you're looking for a complex villain, this novel does not provide one, and if you don't like reading about abusive fathers, this probably is not for you. Gritty, but with a determined hopefulness and a quite awe of magic and the power of women, this is for readers especially intrigued by a fantastical version of women's history.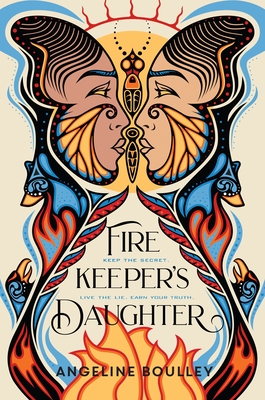 Firekeeper's Daughter by Angeline Boulley
A synopsis: Daunis is considered an outsider on the Ojibwe reservation despite a father that had belonged to the community. She wants nothing else than to be welcomed there. But when Daunis witnesses a murder, she unveils a a criminal investigation into drug activity. She agrees to use her own understanding of Ojibwe's traditional medicine and chemistry to go undercover and root out what secrets she can, but even Daunis does not anticipate just where her investigations will lead her.
The review: An overall good story, so well-written that I was surprised this was a debut novel, Firekeeper's Daughter actually proved pretty hard to put down. Despite the handful of dark turns the book takes, it was still a story about being proud of one's heritage, even with all of the bad parts and unavoidable misfortunes.
The characters are believably written, and I appreciated the realistic arc of the relationship between Daunis and her love interest. In fact, most of the characters felt realistic and individual. There were a few instances where some characters' actions felt out of place; I also found a few other elements poorly handled (Daunis's personal history for one, and mentions of the Little People for another). It also was relatively predictable, but obviously not so much so to make it boring to read.
Recommended for: Readers who are hungry for healthy relationship arcs, as well as those who are interested in reading about cultural perspectives different from their own (I wish there was a little more cultural information infused in the novel, but there's still plenty of interesting tidbits). Fair warning: there is a trigger warning for sexual assault. If that's something that might make you uncomfortable, this might not be a good book for you. Otherwise, I think that it's an interesting, intense read, worth adding to your TBR even if you're a fantasy nerd like me.
Kings of the Wyld by Nicholas Eames (audiobook)
A synopsis: A band of retired mercenaries get back together to rescue Rose, the daughter of the band's front man, who's trapped in a city besieged by all kinds of monsters. But Saga's bandmates, once the toughest, most feared group of mercs out there, are well past their glory days, and the city they're trying to rescue has been given up for lost by pretty much every other band out there. It's a good thing Saga's members are foolhardy enough to try anyway.
The review: This was an incredibly funny book. The narrator made it especially so, but I think that even reading a physical copy will provide the same level of entertainment. Each of the characters had their own distinct quirks, and the fact that they were older than your typical adventurous protagonists made for a refreshing change of pace.
There were a few times where the plot seemed to drag a little, as it seemed to take the characters longer than it ought to have for them to actually get started towards the city where Rose is stuck in. Additionally, there were a few instances where something that happened didn't seem plausible, but this isn't really the kind of book that requires everything makes sense, so I was willing to forgive it.
It's also worth commenting that, despite the fact that the dry wit of the narration carries pretty much the whole novel, Eames did the legwork when it comes to world-building. There's a lot of history and even a decent amount of cultural information included, usually given to the reader in some humorous way or another. And while there were a few things about the finale that I found disappointing, it was overall a very satisfying conclusion, as well.
Recommended for: Adult readers who don't mind a lot of swearing and a fair share of lewd jokes. It's perfect for fantasy lovers who are looking for something new and exciting; it's unlike anything I've read in a while. But this is for the reader who wants something more light-hearted, who doesn't mind if not everything in the world makes sense. If you like the more dark, intense fantasy, this is probably not for you.
Spin the Dawn by Elizabeth Lim
The synopsis: A fickle peace has fallen for the country of A'landi after a bitter five-year civil war, but it'll only stay that way if the emperor marries the reluctant Lady Sarnai. He hosts a contest to find the best tailor in the land to make her wedding dress, and young Maia is more than willing to step up to the challenge, even though women are not allowed to become tailors. Pretending to be her brother, Maia is asked to make impossible outfits, but none more so than those of the final challenge, requiring the laughter of the sun, the tears of the moon, and the blood of the stars.
The review: This felt like two books pushed together. The first half revolves around the making of some useless outfits just to prove the skills of those competing, whereas the second half spends most of its time traveling around the country looking for these impossible resources to make the last three dresses that Lady Sarnai requires. The shift was jarring enough that it almost didn't feel like the same book.
There was one trope that the novel subverted: the love interest knew Maia was a girl dressed as a boy, probably to side-step any questions that might arise over his sexuality. This ends up being a little ironic, though, because there are rumors at court that the love interest is actually into men, which means he could have been written as bisexual at the very least but seemed pretty strictly hetero, despite the rumors and the opportunity being right there. In fact, even though no one seemed to judge the love interest his supposed interest in men, there are no same-sex couples in the story at all.
That was the only thing I was really excited to see in the novel. It also falls into the trope with Old Magic Boyfriend and Young Normal Girl (re: Edward and Bella), and I was hoping Lim would also subvert this trope by making the love interest at the very beginning of his long life, but alas, there's still that creepy age difference written as if it's nothing at all. Some of the world-building felt a little sloppy and weird, too; if Maia's discovered as a girl, it'll be a death sentence, though no explanation is given as to why it's a capital crime, for example. I had some high hopes for this book but found it was not my cup of tea.
Recommended for: Fans of books like The Wrath and the Dawn or, obviously, Twilight. It's compared to a mix between Mulan and Project Runway, although honestly it's more for readers who like fantasy with a lot of romance included. It's a relatively accessible read in regards to writing style, but if you like your fantasy focused primarily on what you can only get in fantasy (magic, new worlds, that sort of thing) then you probably won't like this book.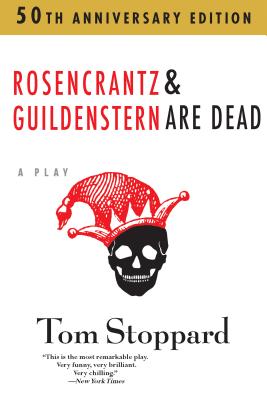 Rosencrantz & Guildenstern Are Dead by Tom Stoppard (a Play)
A synopsis: Re-imagining the famous Shakespearean Hamlet, the play follows Rosencrantz and Guildenstern as they try in vain to figure out what is wrong with Hamlet while stumbling about the intricacies of court and getting lost (or, staying lost) throughout the way.
The review: It was a weird play, to say the least. The two characters are frequently confused by others, but then, often forget their own names and lose their train of thought frequently and get lost by the plot. That said, there were quite a few interesting philosophical tangents that were noteworthy.
I wanted to read this play because of some quotes I saw on social media about it, so I was a little disappointed that the parts I'd seen were some of the things they edited out of the new edition. It was an interesting, albeit slightly confusing read for someone who hasn't touched much in the way of plays since my Shakespeare class in college, but it was funny and interesting enough that I might watch the play to better understand the whole thing.
Recommended for: Fans of plays like Waiting for Godot; Rosencrantz & Guildenstern Are Dead is likewise rather absurdist and involves two characters who frequently get stuck in some Nowhere, sort of breaking the fourth wall throughout.